Warta Dharmawangsa : Journal of Dharmawangsa University is a journal that published by Dharmawangsa University Sumatera Utara Medan Indonesia. 
A B C D E F G H I J K L M N O P Q R S T U V W X Y Z All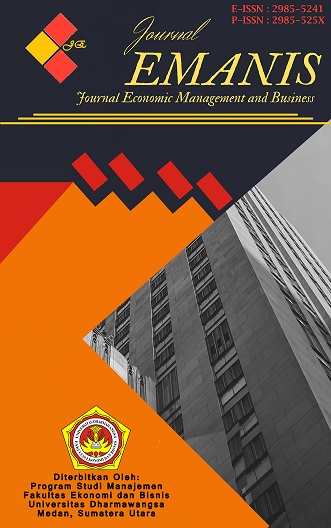 Journal Economic Management and Business
Journal Emanis : Journal Economic Management and Business adalah Jurnal Ilmiah bidang Ekonomi yang diterbitkan Fakultas Ekonomi dan Bisnis Universitas Dharmawanga, terbit dua kali setahun. Jurnal bermuatan hasil-hasil penelitian dan karya ilmiah terpilih meliputi berbagai cabang ilmu Ekonomi.
P-Issn : 2985-525X
E-Issn : 2985-5241
View Journal | Current Issue | Register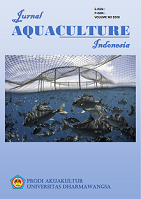 Jurnal Aquaculture Indonesia
E-ISSN: 

2808-9634

ISSN: 

2808-9626

DOI: 10.46576/jai
Editor in Chief : Dr. Emmy Syafitri, SPi, MSi
JAI: Jurnal AQUACULTURE Indonesia merupakan jurnal ilmiah nasional yang mempublikasikan penelitian empiris kajian ilmiah (review) dan perkembangan ilmu pengetahuan terkini di bidang akuakultur (budidaya perairan).
FOKUS JAI: Jurnal AQUACULTURE Indonesia adalah produksi bidang akuakultur air tawar, payau maupun laut. Tak hanya fokus pada pertambahan kuantitas ikan melalui pembibitan, pemeliharaan, kesehatan, dan teknologi pakan, JAI: Jurnal AQUACULTURE Indonesia juga menyangkut tentang kelestarian lingkungan di mana budidaya ikan tersebut dilakukan.
Adapun CAKUPAN dalam jurnal ini berkaitan dengan : Manajemen Kesehatan Ikan, Nutrisi dan Pengembangan Pakan Ikan, Genetika dan Pemuliaan Ikan, Biologi, Fisika, dan Kimia Perairan, Mikrobiologi Perairan, Teknologi dan Manajemen Akuakultur, Bioteknologi Akuakultur dan Pengembangan Industri Perikanan
View Journal | Current Issue | Register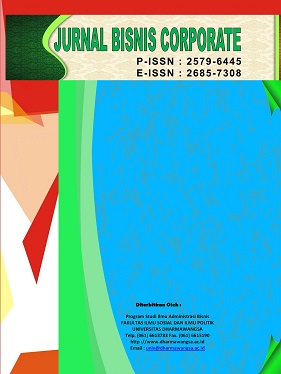 Jurnal Bisnis Corporate
This journal contains scientific articles about the social and political science written by college lecturer at Dharmawangsa University Medan Faculty of Social Sciences Politics. Hopefully this journal provides information for the community and useful for the development of insight, science improvement for all of us and our devotion to Allah SWT.