Warta Dharmawangsa : Journal of Dharmawangsa University is a journal that published by Dharmawangsa University Sumatera Utara Medan Indonesia. 
A B C D E F G H I J K L M N O P Q R S T U V W X Y Z All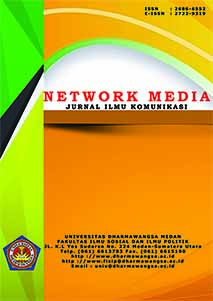 Network Media
ISSN    : 2686-6552 (Media Cetak)
ISSN    : 2722-9319 (Media Online)
Jurnal ini berisi artikel ilmiah tentang Ilmu Komunikasi.  Jurnal Network Media diterbitkan oleh Program Studi Ilmu Komunikasi Fakultas Ilmu Sosial dan Ilmu Politik Universitas Dharmawangsa Medan dengan ISSN : 2569-6446 dan E-ISSN : 2722-9319. Semoga Jurnal ini memberikan informasi bagi masyarakat dan bermanfaat untuk pengembangan wawasan dan peningkatan  ilmu pengetahuan bagi kita semua.